The Brazilian Association of Wind Energy (ABEEólica) estimates that Brazil has the potential to generate 500 gigawatts (GW) of wind power, enough to supply three times the country's current energy demand, which is currently met by a range of sources including wind, hydroelectric, biomass, natural gas, oil, coal, and nuclear. In December 2018, the national energy capacity totaled 162.5 GW, according to the Brazilian Electricity Regulatory Agency (ANEEL). Of this total, wind power accounted for 14.2 GW, equivalent to the capacity of the 14-GW Itaipu dam, and enough to supply 22 million homes. Wind is the fourth greatest energy source in Brazil.
ABEEólica CEO Elbia Gannoum explains that the potential estimate of 500 GW is based on onshore generation only, by 150-meter wind turbines with the current standard capacity of 2 to 3 megawatts (MW) each. The energy industry, however, has been making efforts to increase the capacity of wind turbines to around 5 MW. Such turbines would be capable of generating twice the amount of energy in the same physical space while reducing operating costs. "Technological advances could greatly increase Brazil's wind power potential," says Gannoum.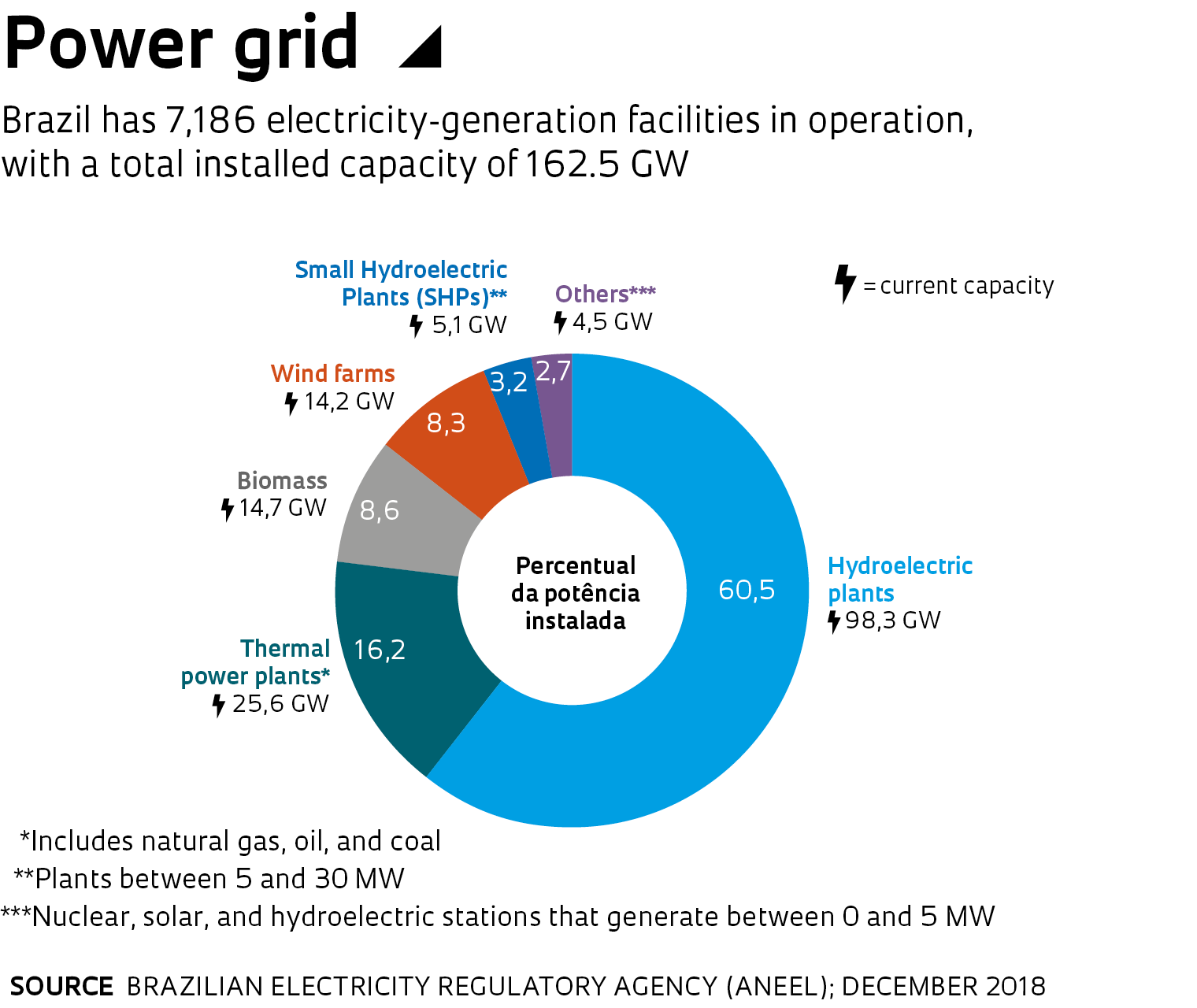 American multinational General Electric (GE) began selling a 4.8 MW turbine worldwide in 2017. The model has three blades, each 77 m long, resulting in a total diameter of 158 m. The maximum height of the turbine—including the tower and one of the blades pointing upward—is 240 m, which is more than the length of two football fields.
The combination of a larger rotor and a taller tower, explains Vitor Matsuo, analytics leader at GE Renewable Energy in South America, allows the turbine to take advantage of stronger winds and generate more power: about 90% more than the 2.5 MW of the previous GE model sold in Brazil. A 4.8 MW turbine could meet the energy demand of 7,500 houses.