Elections in Brazil can be held either in one round—in proportional-representation elections for legislative seats and in elections for mayor in cities with up to 200,000 voters—or in two rounds—for Executive positions if no candidate wins an absolute majority of votes in the first round. But informally there is also what is known in Brazil as a third round, when election results are contested in court. In mayoral elections, successful candidates are nearly twice as likely (89.7%) to be sued by their opponents or by public prosecutors than unsuccessful candidates. The winners, in contrast, are far less likely to go to court: only one suit is brought by a successful candidate for every five brought by defeated ones (18.2%).
"After you've won the election you no longer want to think about disputes, much less legal ones. You're looking forward to peacefully taking office," says Wagner Pralon Mancuso, a political scientist from the School of Arts, Sciences, and Humanities at the University of São Paulo (EACH-USP). Mancuso co-authored a paper titled, "Um estudo da relação entre dinheiro e política a partir de processos da Justiça Eleitoral" (A study on the relationship between money and politics: insights from cases in the election courts), with fellow political scientists Vanessa Elias de Oliveira, of the Center for Applied Engineering, Modeling, and Social Sciences at the Federal University of ABC (UFABC), and Bruno Speck, a professor at the USP School of Philosophy, Languages and Literature, and Human Sciences (FFLCH). With funding from FAPESP and the German Research Foundation (DFG), the researchers investigated the 2008, 2012, and 2016 mayoral elections in Brazil in a collaboration with a team led by Markus Pohlmann and Elizângela Valarini from the Department of Sociology at Heidelberg University, in Germany. They focused their research on lawsuits alleging campaign finance violations as defined by the Electoral Justice Department, including abuse of economic power, illegal fundraising or illegal use of campaign funds, and corruption or fraud.
Of the 38,525 candidates they surveyed, 3,873—or 10.1%—had been sued. The data showed that both the likelihood of suing (293%) and the likelihood of being sued (228%) increased dramatically between the 2008 and 2012 elections for mayor. But in 2016 these numbers declined: the likelihood of being sued was 145% higher and the likelihood of suing was 70% higher than in 2008. The initial increase can be partly due to statistical reasons, including case file digitization and the increased availability of data, explains Mancuso. The subsequent decline could, in turn, be the result of a minor electoral reform in 2015 that banned corporate campaign contributions, resulting in lower campaign spending, including on lawsuits.
Judicialization of politics is neither exclusive to Brazil nor an entirely new phenomenon
The data suggests that recourse to the courts may indeed be being used to drag elections into a "third round." "If the reason were to ensure election integrity, it wouldn't matter if one candidate had 1% of votes and the other 99%. If the one with 1% has been implicated in vote buying, they're wrong just the same," says Mancuso. "But the targets of electoral litigation are typically the most competitive candidates. This could be because the justice system lacks the resources to entertain all cases, and focuses on the most contested ones; but it could also be that candidates are using lawsuits as a weapon against those ahead in the race," he says, adding that further research is needed to demonstrate whether this indicates the courts are being weaponized.
Data on electoral cases cannot provide a measure of electoral corruption, as most cases are either dismissed or the candidates are ultimately absolved. But they can provide a measure of the "judicialization of politics," or the extent to which the Judiciary is involved in election processes.
Judicialization, says Mancuso, can serve two purposes: "It can be used to ensure greater election integrity," by preventing abuse and dishonest election strategies, or it can "allow bad losers to use the justice system as if it were a third round, trying their luck." Mancuso refers to this as "strategic use of judicialization in the election process." He believes an increasing reliance on the Judiciary can upset the political balance if it reflects an attempt by financially powerful candidates to smother weaker ones.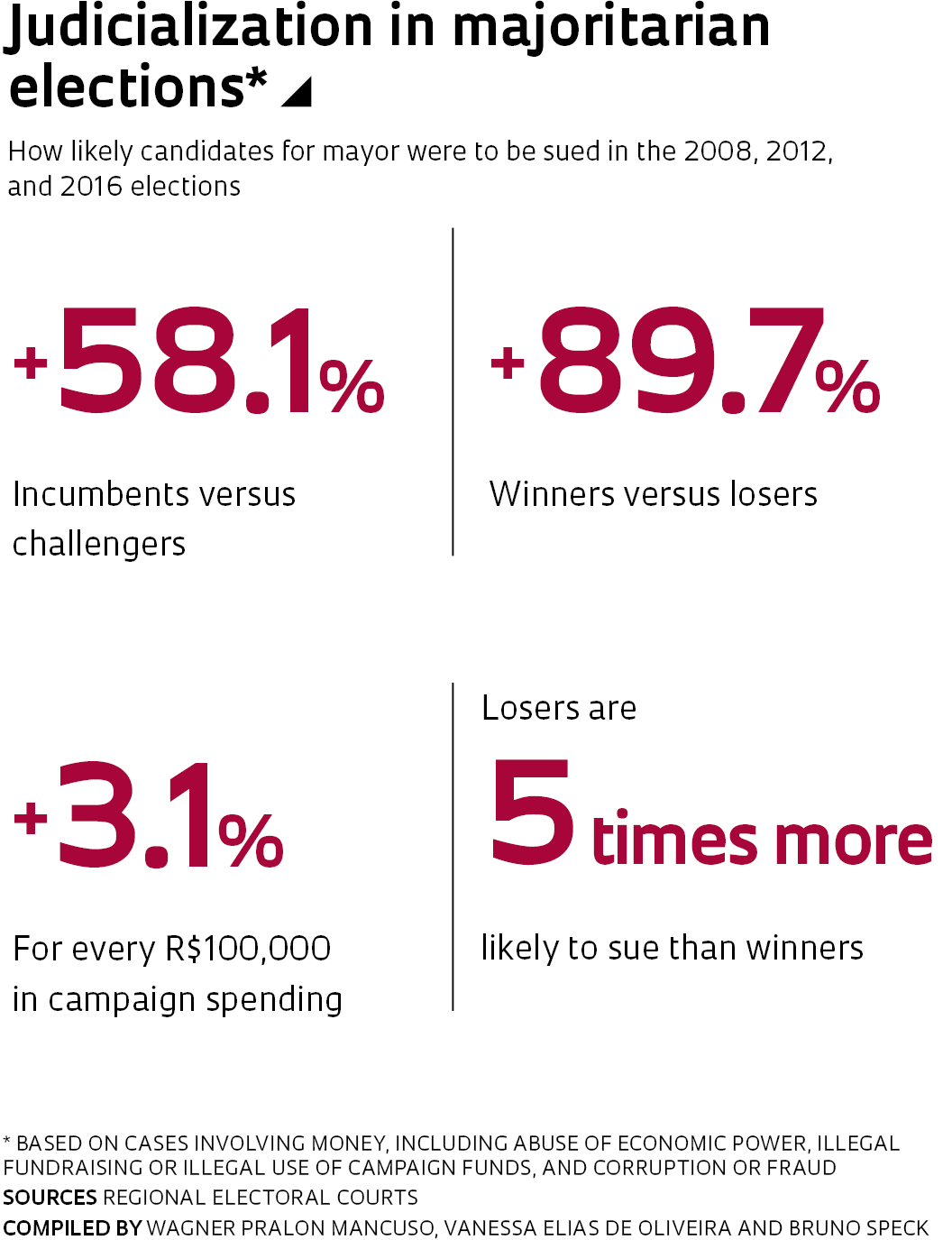 This phenomenon is neither exclusive to Brazil nor entirely new. In 1995, Swedish political scientist Torbjörn Vallinder reported what he described as a "global expansion of judicial power." "Judicialization research became more prolific in Brazil early in this century. It initially explored how judicial institutions influenced the political process broadly, but not elections specifically," says Vanessa Elias de Oliveira.
But examining the election process is necessary, she says, to understand how money can shape politics. "This can involve election corruption or unlawful uses of public or private funds in the election process. Many of these cases are brought to and settled by the courts," she says. To focus on the money factor, the researchers selected cases involving campaign spending and excluded "common" cases relating to slander or advertising irregularities, for example.
Oliveira believes the findings from the study are insufficient to show that judicialization is leading to a "third round" in the elections. "But they do show that the Justice System has become an integral part of the political and election process. Recourse to the courts has become a given. Political actors will use them both to influence election results and to stake out their position, symbolically, on different issues," she says. "Being able to go to court to contest the election results is important in a democracy," she adds.