In 2018, FAPESP invested R$1,216,750,480 in 24,720 research projects spread across all areas of knowledge. The amount was 15% higher than it was in 2017, in nominal values, and 6% higher when considering inflation—which breaks a downward trend in investment that began in the mid-2010s as a result of the economic slowdown. The Foundation's budget is comprised of 1% of the tax revenue of the state of São Paulo, passed on by the Treasury, as determined by the São Paulo Constitution of 1989, and of funds from agreements with institutions and businesses to jointly fund research. The audit report can be found in the Relatório de Atividades FAPESP 2018 (FAPESP 2018 Activities Report), released in August, which is available in full at fapesp.br/publicacoes. The website also provides annual summaries of the Foundation since 1962, the year in which its activities began.
"The year 2018 has been one of major political changes in the country and of expectations for the future of higher education, science, and technology," said FAPESP President Marco Antonio Zago in the opening of the report. "In this scenario, FAPESP has maintained its strong presence, marked by stability, a growing presence within the São Paulo science and technology system, and increased visibility at home and abroad." Among the initiatives that stood out, one example was Jovens Pesquisadores – Fase 2 (Young Researchers – Phase 2), which aims at consolidating high-impact lines of research created by scientists who benefited from the Jovens Pesquisadores em Centros Emergentes (Young Researchers in Emerging Centers) program. Created in 1995, it seeks to attract young PhD holders from Brazil and other countries to lead research groups. About 1,600 researchers have already been considered; there are 227 ongoing projects in Phase 1 and 36 in Phase 2. Last year, R$59.6 million was invested in the program.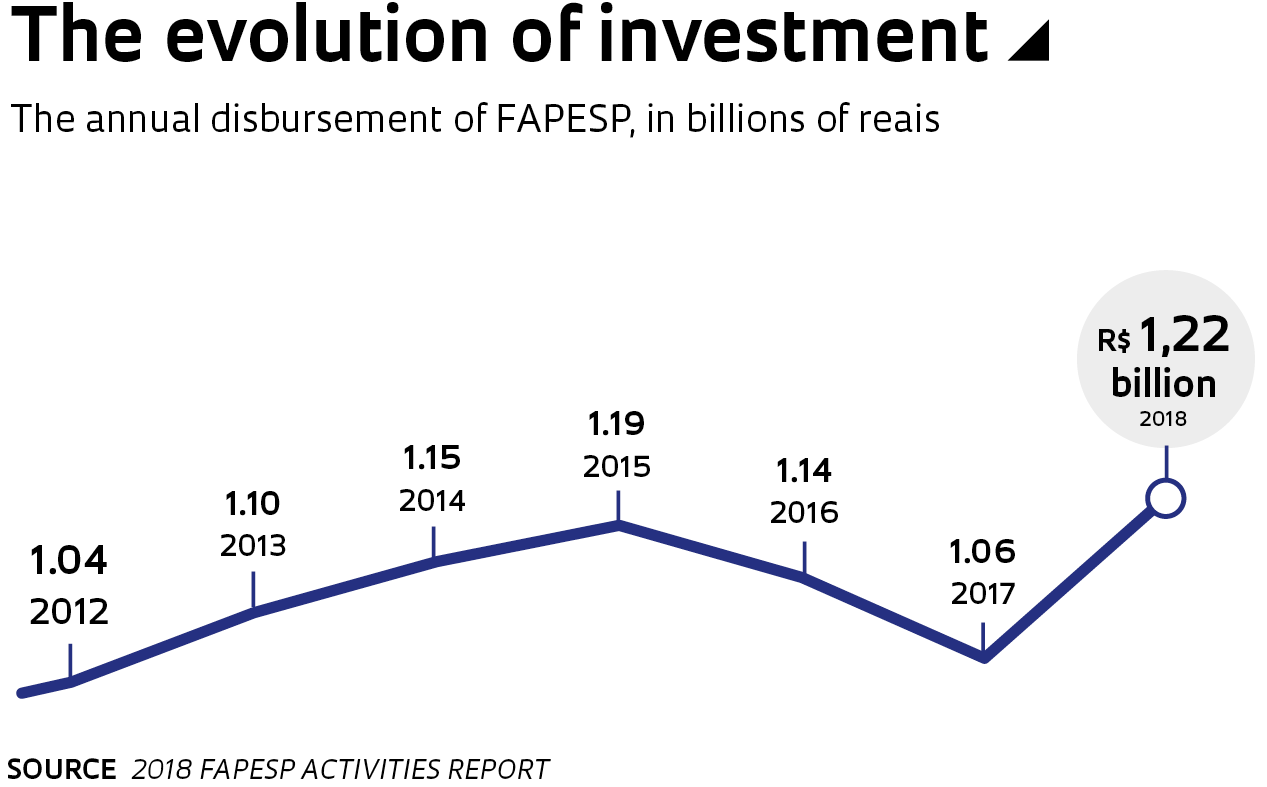 In 2018, 77 Thematic Projects were funded. This category supports research projects with bold objectives, developed by general research teams from various institutions, and for a period of up to five years. The investment into Thematic Projects in 2018 totaled R$247.4 million. There are currently 418 Thematic Projects in progress.
There has also been the restoration—after an evaluation by an international committee—of the 17 Research, Innovation, and Dissemination Centers (RIDC), which are networks of researchers dedicated to topics that are on the frontier of knowledge and impact society the most; they can be supported for up to 11 years.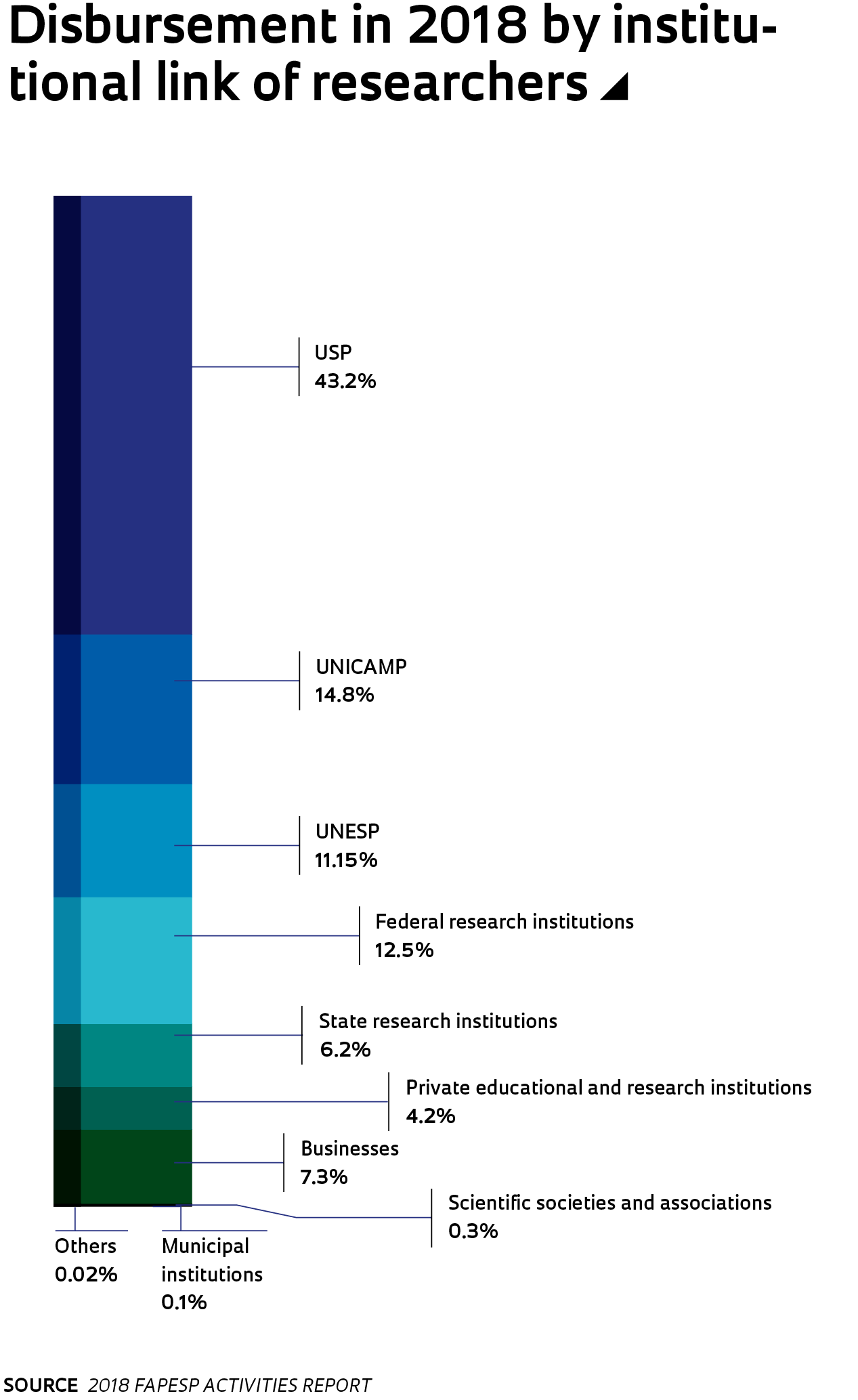 New to the 2018 report was the presentation of investments made by the Foundation under six different funding strategies. The Research for the Advancement of Knowledge category, which ranges from short-term projects to more ambitious ones, such as Thematic and RIDC projects, accounted for 51% of disbursement: more than 5,000 grants were given in this category. Another 24% was invested in human resources education for science and technology: FAPESP allocated R$293 million to 10,222 grants in Brazil and abroad, offering 4,386 new grants. Ten percent of the proceeds went to supporting research infrastructure through equipment purchase or repair, among other necessities. The Research for Innovation category, which encompasses projects in collaboration with businesses, accounted for 9.5% of disbursement. One of the highlights was the approval of 270 new projects approved under the Technological Innovation in Small Businesses (PIPE) program. Finally, 4.5% went to research on strategic topics, such as climate change, bioenergy, biodiversity, eScience, among others; the remaining 1% was invested in research dissemination, mapping, and evaluation.
In terms of how the resources were distributed by field of knowledge, the 2018 data remains the same as that from previous years: life sciences accounted for 47% of disbursement; exact sciences, Earth sciences, and engineering, 33%; humanities and social sciences, 9%. The remaining 11% were allocated to interdisciplinary research. When the institutional links of funded researchers are analyzed, the University of São Paulo (USP) once again occupies first place, having received 43.2% of resources, followed by the University of Campinas (UNICAMP), with 14.8%. Federal research institutions in the state of São Paulo came in third, with 12.5%, and São Paulo State University (UNESP) held fourth place, with 11.2%.