The year 2016 marked the reversal of a four-year trend of steady and consistent growth in R&D investment in Brazil. National R&D expenditure for the year was 1.27% of gross domestic product (GDP), down from a record high of 1.34% in 2015. When adjusted for inflation, the decrease was 9%—from R$87.1 billion to R$79.2 billion in just one year. Brazilian GDP fell by 3.6% in 2016, with the country suffering a deep recession. This data is part of a comprehensive analysis comprising 164 pages of tables and statistics in the National science, technology, and innovation indicators 2018 report, released by the Brazilian federal government last October.
R&D spending is a way of measuring a country's efforts to stimulate development. It covers a set of activities performed by businesses, universities, and other scientific institutions, including basic and applied research, the creation of new products, and scientific education and training. The reduction seen in Brazil was reflected in both public and private investment, with the former falling from R$45.5 billion in 2015 to R$41.5 billion in 2016, and the latter from R$41.6 billion to R$37.7 billion (after adjustments for inflation), according to the Ministry of Science, Technology, Innovation, and Communications (MCTIC). "I was actually surprised—with the slowdown in industrial production and the budgetary restrictions faced by the government in 2016, I expected an even sharper drop," says engineer Álvaro Prata, secretary of technological development and innovation at the MCTIC between 2016 and 2018.
According to the data, federal budget cuts to R&D spending were relatively modest overall: the drop between 2015 and 2016 was just over 9.3 percent in real terms. But the cuts did severely affect the money available to what was then the Ministry of Science, Technology, and Innovation (MCTI), which saw R&D investments fall by 27.5%—from R$6.04 billion to R$4.38 billion, according to the indicators—compromising its ability to fund research projects at universities, scientific institutions, and innovative companies through agencies such as the Brazilian National Council for Scientific and Technological Development (CNPq) and the Brazilian Funding Authority for Studies and Projects (FINEP). "Businesses rely on incentives to invest in R&D and the number of non-reimbursable grants being offered by FINEP has fallen significantly in recent years," says Luiz Fernando Vianna, president of the Brazilian Association of Technological Research and Innovation Institutes (ABIPTI). In May 2016, the MCTI merged with the Communications Ministry, whose R&D budget had increased by 6.3% that year, to R$229 million.
The Ministry of Education (MEC), which accounts for the largest source of federal R&D expenditure, saw a fall of 9.3% between 2015 and 2016, from R$17.6 billion to R$15.9 billion in real terms. The Agriculture Department, which has links with the Brazilian Agricultural Research Corporation (EMBRAPA), and the Health Department, which also invests in research, increased R&D spending by 2.8% and 32% respectively. "Nobody wants to reduce salaries, so budget cuts had a greater impact on so-called discretionary resources, such as research investments, affecting different government ministries to different extents," says physicist Luiz Davidovich, president of the Brazilian Academy of Sciences (ABC).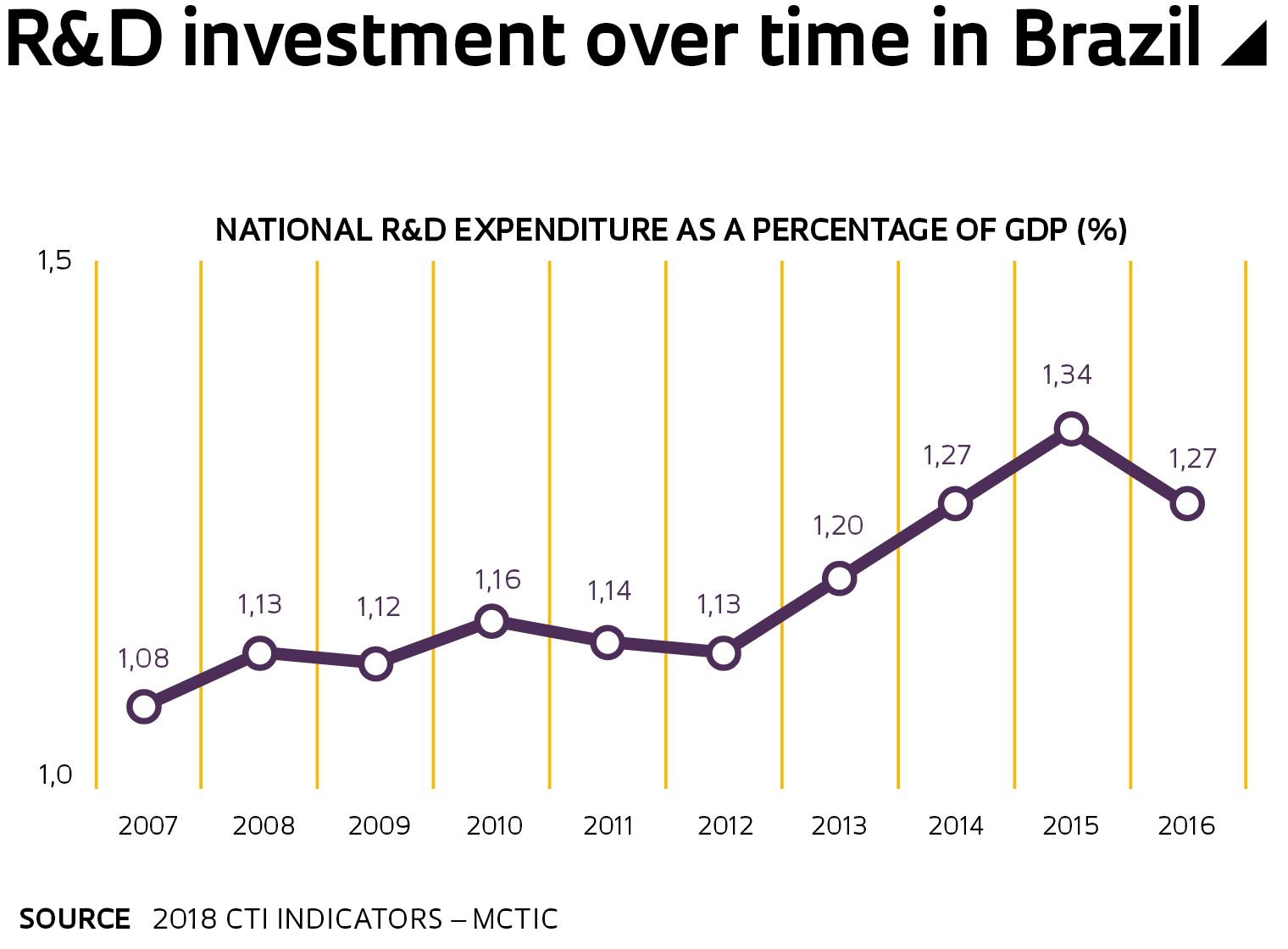 This strategy, he notes, may make sense in response to short-term funding issues, as the damage of temporarily postponing a research project is relatively low. "But in Brazil, the cuts have become chronic," he says. He recalls that the MCTIC faced cuts again in 2017 and 2018, and more still are projected in the 2019 budget. "There is a nominal increase in the budget, but this includes R$1.5 billion for Telebrás and Correios—the Brazilian state telecommunications company and the postal service," he says. According to calculations by the ABC, funds for CNPq scholarships will drop by 25% this year. FINEP will receive just R$1 billion of the R$4 billion assigned to the National Fund for Scientific and Technological Development (FNDCT). "The rest of the money, which could be used to stimulate innovation in Brazil and help the economy grow, will once again be used as a contingency fund to reduce government debt."
According to the ABC president, the investment drought is making Brazilian research less competitive. "In agriculture, for example, I have heard stories about obsolete EMBRAPA equipment and a lack of access to advanced technologies that are fundamental for modern agriculture." Álvaro Prata, from the MCTIC, believes that the ministry has been able to strategically maintain specific projects, such as the new Sirius synchrotron light source in Campinas, and says that between 2016 and 2017, it managed to honor postponed research commitments after receiving R$731 million from a program designed to tax financial assets held overseas by Brazilian citizens. "This has helped ease the budget reduction and has kept the science and technology system running."
According to the MCTIC indicators, Brazilian R&D expenditure in 2016 was comparable—in terms of purchasing power parity—with that of Russia and was ahead of countries like Italy and Canada, although it represented just a third of the investment made by Germany, 9% of China, and 8% of the USA. In relation to GDP, Brazil invested 1.27%, surpassing Spain, Russia, Mexico, and Argentina, spending roughly the same as Portugal and Italy, and falling behind China (2.11% of GDP), the USA (2.74%), and South Korea (4.23%).
Brazilian R&D expenditure in 2016 was composed of 0.67% of GDP from public resources and 0.6% from private companies. International comparisons show that in developed countries, private participation in R&D is usually significantly higher than public funding. In Brazil, however, investment by businesses is less than 50% of the total, while it accounts for 62% in the USA, 75% in South Korea, 76% in China, and 78% in Japan.