The launch of a 12-kilogram (kg), shoebox-sized nanosatellite last April marked a significant milestone for Brazil's space industry. The VCUB1, developed by Visiona Tecnologia Espacial, a joint venture between Embraer Defesa e Segurança and Telebras, is the first high-performance nanosatellite designed and developed in Brazil. It is also the first to be developed for commercial applications—to date, similar natively developed projects have been primarily focused on scientific or educational applications (see Pesquisa FAPESP issue nº 219). Visiona is now working to validate the onboard software and will use the satellite-collected data to enhance its remote sensing and telecommunications offering, which currently relies on third-party satellites.
The satellite cost R$30 million to develop, with R$2.9 million provided by the Brazilian Agency for Industrial Research and Innovation (EMBRAPII). The unit's reflective observation camera, the first of its kind to be developed in Brazil, features a three-mirror optical system that can capture images of the earth's surface with a spatial resolution of 3.5 m. To put this into perspective, if the camera were installed in New York, it would be capable of photographing a truck on the streets of Washington DC. The optics were developed by Opto Space & Defense and Equatorial Sistemas, with funding from FAPESP and the Brazilian Funding Authority for Studies and Projects (FINEP).
The nanosatellite will traverse Brazil's skies multiple times a day, collecting images and data for weather prediction and agricultural applications, including remote farmland monitoring and identification of low-yield fields. It can also support disaster prevention, environmental monitoring, and a host of other applications related to security and smart cities. However, Visiona's primary objective is to validate the technology to subsequently launch larger and more complex satellites. "To achieve this, we needed a scalable architecture and reliable onboard software," says Visiona CEO João Paulo Campos.
The satellite has an onboard data management system that controls other subsystems and the satellite-to-ground link. It also incorporates a communication and attitude control system that precisely aims the camera to the desired image capture location and orients the solar panels towards the sun, improving the amount of energy that is harvested. "This is a strategic technology that had never been locally developed in Brazil," Campos notes. "The VCUB1 has put Brazil among a select group of nations with the capabilities to develop complete satellite systems," he adds.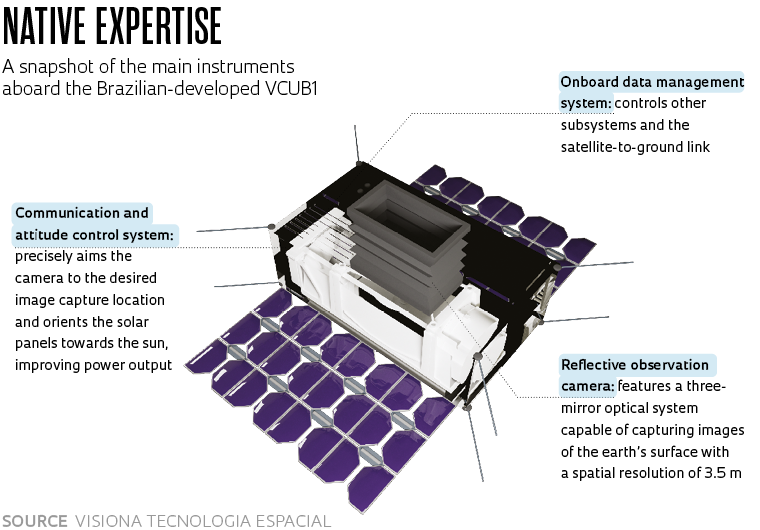 Fábio de Oliveira Fialho, from the Polytechnic School of the University of São Paulo (Poli-USP), says Visiona's nanosatellite has broken through a major technological barrier. "The VCUB1 will enable the company to explore multiple layers of high-quality data, adding value to its service offering.
The Brazilian Agricultural Research Corporation (EMBRAPA) played a part in the collaborative development effort, assisting in the selection of the colors the satellite would sense — the red-edge band was selected as best suited for crop monitoring. The Brazilian National Institute for Space Research (INPE) provided support in developing the project, leveraging its expertise in systems engineering, satellite assembly, integration, and testing. The SENAI Institute of Innovation in Onboard Systems (ISI-SE), based in Florianópolis, received funding from EMBRAPII to build and test the ground station and integrate the onboard computer with other onboard components.
ISI-SE was also actively involved in another program, called "Constelação Catarina," launched by the Brazilian Space Agency (AEB) in May 2021. The program plans to deploy 13 nanosatellites into orbit in the upcoming years. Presently, two of these nanosatellites are in the development phase — one at ISI-SE and the other at the Federal University of Santa Catarina. "These nanosatellites will form an orchestrated network collecting agricultural and meteorological information," explains Augusto De Conto, the project manager. "If everything goes according to plan, our nanosatellite will be launched in 2024," he says.
Nanosatellites and microsatellites generated US$2.8 billion in revenue in 2022, with the market expected to be worth US$6.7 billion by 2027, according to analysis by American consultancy firm Markets and Markets. The 2020 SpaceWorks report estimates that between 2,000 and 2,800 of these devices will be launched into space in the next five years for various applications. To a large extent, this growth has been driven by lower construction costs. Unlike conventional large-scale satellites, which can cost between US$150 million and US$400 million, nanosatellites are relatively cheap. However, they have a shorter lifespan of three to five years.
The expansion of this market has come in tandem with a shift in the aerospace industry. Reduced development risks, as aerospace technology gains maturity, have attracted growing interest from private investors. The most notable private players include Jeff Bezos's Blue Origin, Elon Musk's SpaceX, and Richard Branson's Virgin Galactic—three companies created to build launch rockets and for space tourism (see Pesquisa FAPESP issue nº 278). The VCUB1 was launched in April using SpaceX's Falcon 9 rocket, alongside other satellites of various sizes.