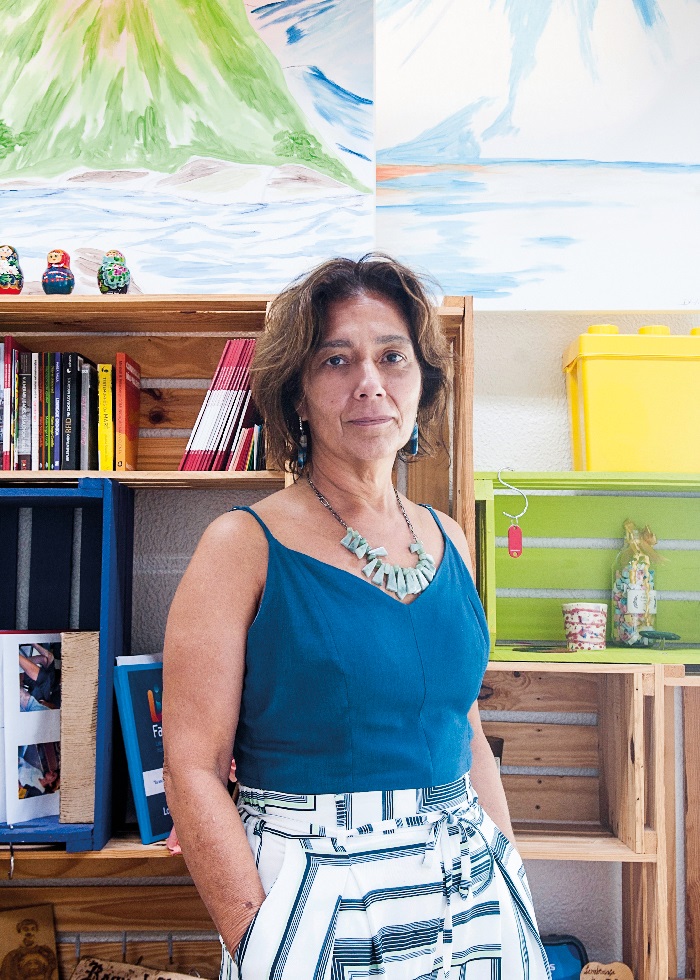 Léo Ramos Chaves / Revista Pesquisa FAPESPI never identified myself as a laboratory or library researcher—I always preferred the type of investigation that leads to more practical outcomes. I remember when I was around 10 or 11 years old, I started going with my grandmother every weekend to give food to people in need in Sorocaba, the town where I was born in the interior of São Paulo. I was so shocked to see people eating from pans with their hands, they had so little. There, as a child, I started to feel like I had to do something to help change people's lives.
Around the same time, I started seeing a psychologist—the mother of a school friend. Her ability to listen, help, and support me really captured my attention. When it was time to apply to university, I had no doubts: I applied to study psychology at every college possible and was accepted at USP [University of São Paulo].
It was important to me to attend a public university. The fact that I had no tuition fees to pay made me want to work harder, as paradoxical as that may seem, both for my own sake and so that I could give the State something back in return for what was being invested in my education. When I was 18, I started teaching high school history at a public school on the outskirts of a town called Itapecerica da Serra. I joined to replace a teacher who had left—no one wanted to teach there. My students were the very people my family always told me to avoid. Drug users, for example.
My job at the school laid the foundations for my degree because I was exposed to all these social issues. In the middle of the course, I had the opportunity to carry out an undergraduate research project. I started investigating the effects of marijuana on the mood of vulnerable people. At the same time, I took part in other studies whose results were used by the São Paulo Institute of Social Medicine and Criminology to support the parents of people who use psychoactive substances. I was also involved in groups conducting ethnographic investigations into intravenous drug use.
I actually ended up specializing in this area of drug use. In my master's degree, which I also did at USP, I researched the relationship and communication between parents and children who use drugs. I interviewed 30 mothers and fathers of young users and the children themselves. I then used speech analysis to compare the perceptions of the parents and the children about illegal drugs—at the time, marijuana and cocaine—and to analyze how the children believed their family felt about their drug use. The study also included the phenomenon of dependence and personal relationships in this context. My hypothesis was that parent-child relationships suffered more from a lack of communication than from the drug use itself. I gathered a lot of material on the subject.
I studied the obligatory subjects and collected the data, but later I decided I wanted to spend some time abroad. I chose Italy for two reasons: firstly, I have Italian citizenship, and secondly, I knew an Italian psychologist who worked with heroin users. The idea was initially to stay in the country for six months, but I ended up living there for seven years. After a year away, during which I had put my master's degree on hold, I returned to Brazil to complete my qualification. But since it was not valid in Italy, I decided to do a second degree in psychology at the University of Padua. Until I was able to defend my master's degree, I came back to Brazil once a year between 1993 and 1996 to spend a month working at USP.
I spoke almost no Italian. When I got there, the psychologist I knew told me that I could only get a scholarship if I spoke the language, and if I could not get one I would have to go back to Brazil. I was desperate. I had already started an internship at a cooperative for heroin users. These men and women took me under their wing and every day they taught me how to say and write something new in the language. Thanks to them, I was able to show enough proficiency in the language to get the scholarship. It was a powerful experience for me: the very people I thought I had gone to help ended up giving me this incredible support.
Years later, I became head of the cooperative and started studying mothers who used heroin and their relationships with their children, vulnerabilities, and dependencies. I used the experience as the basis for the final thesis of my second psychology degree and it demanded a lot from me personally. I was married to an Italian and trying unsuccessfully to get pregnant. I visited Brazil regularly and established a research group at UNIFESP [Federal University of São Paulo], through which I spent four years working in 'Crackland' with mothers who used heroin and crack.
In 2000, I came back to Brazil for good and dedicated myself to found an organization for vulnerable women and their children in Sorocaba. Some had a history of drug use, but most were victims of some form of abuse, from childhood sexual abuse to trafficking. At the time, I thought: since I cannot get pregnant, I will adopt these mothers as my 'children.' Thus, in 2001, Lua Nova was established. Funnily enough, one year later I fell pregnant with twins. It was a really important stage of my life.
At Lua Nova, I developed a form of community treatment that I defined as a methodology for monitoring and helping people in situations of extreme vulnerability based on their informal relationships—with friends, for example. As part of the treatment, we identified and strengthened these relationships because they are more equal, more personal, and therefore more empathetic. Help is most effective that way. Developing this methodology and vulnerability indicators for health, education, and housing, allowed us to establish partnerships with the European Union. We have since expanded the treatment approach to communities in Colombia, Mexico, Costa Rica, Chile, Uruguay, and Argentina. There are now 78 communities in 11 countries.
In 2015 I suffered a personal blow when I discovered I had breast cancer, which led me to close Lua Nova, ending an important chapter in my life. But I could not just do nothing. Two years later, between chemotherapy sessions, I decided to study for my PhD at UNIFESP. Unfortunately, the work involved in writing my thesis was too much and I had to stop. But the university created a specialization course in community treatment and named me as the director.
Now I am about to turn 57 and I teach psychology at the Facens University Center in Sorocaba, as well as heading a research project at the institution for undergraduates. I have resumed my PhD and intend to defend my thesis in 2023. I am analyzing the data we have collected on community treatment across Latin America using a highly disciplined and organized research base. I am finally scientifically validating the practical research of a lifetime with the aim of contributing to public policies for people in vulnerable situations
Republish