In 2021, Brazil faced its most serious hydrological crisis in nine decades. As well as impacts on agriculture and water supply in cities, the lack of rainfall put the country's capacity to generate electricity at risk. Not including São Pedro, the reservoirs of Brazil's hydroelectric plants—the country's main power source, accounting for more than 60% of all the electricity it produces—reached historical lows. In April of this year, at the end of the rainy season, the dam reservoirs in the Southeast/Midwest subsystem, where the biggest hydroelectric plants in the country are located, were at 35% of capacity, only slightly better than in April 2001 (32%), when Brazil experienced a severe electricity crisis that led to major blackouts, leaving cities in the dark and forcing the federal government to ration electricity.
To prevent the sector's collapse and avoid repeating the situation experienced 20 years ago, certain measures were adopted by the Brazilian Ministry of Mines and Energy (MME). In the first half of 2021, the ministry decided to increase electricity generation at thermoelectric plants, which burn fossil fuels and are more expensive and pollute more. It also authorized an increase in electricity imports from neighboring countries, such as Argentina and Uruguay.
Above average rainfall in October and November—the beginning of the rainy season—brought some relief but did not completely resolve the problem. "Projections for the end of November [after this issue goes to print] estimate that reservoir volumes in the South and Southeast/Midwest subsystems will reach 53.4% and 21.3% of capacity, respectively,"  Luiz Carlos Ciocchi, general director of Brazil's National Electricity System Operator (ONS), responsible for operating, overseeing, and managing electricity generation in the country, told Pesquisa FAPESP.
The MME estimates that dams in the Southeast/Midwest will reach 38% capacity in April 2022 if this year's rainfall matches the volume of the 2020/2021 rainy season—if reservoir levels fail to surpass around 30% by then, the authorities will be on alert. "We are paying close attention and will continue to monitor the indicators so that we can adopt any measures needed to meet the demands of the SIN [National Interconnected System]." The SIN is the country's electricity production and transmission network.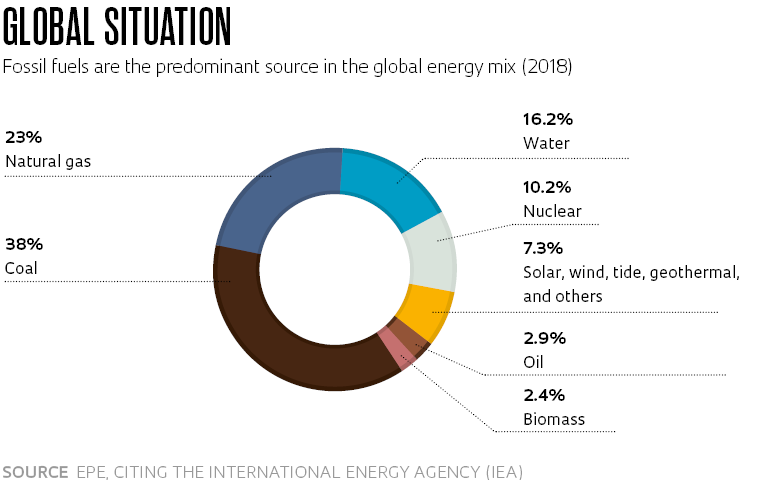 According to Christiano Vieira, electricity secretary at the MME, measures were implemented in October 2020 to ensure enough electricity is generated and supplied this year and next. "Thermoelectric production was maximized during the 2021 dry period [May to October] to preserve water levels in the system's main reservoirs."
Researchers and electricity sector experts interviewed by Pesquisa FAPESP both recognize the challenges faced by the sector, which is highly dependent on water sources, but their opinions differ on the root causes. "The 2001 crisis taught us some very important lessons. That year, 90% of our power generation mix was hydroelectric plants, today it is around 62%, and within ten years it will be 58%," says economist Nivalde de Castro, general coordinator of the Electricity Sector Studies Group (GESEL) at the Federal University of Rio de Janeiro (UFRJ).
"A power generation mix that is highly dependent on a single source is a risk; if this one source is renewable and seasonal, such as water, the risk is even greater," the researcher explains, noting that between 2001 and the current crisis, Brazil's absolute electrical capacity has grown substantially, from 75 gigawatts (GW) to about 170 GW. "During this growth, priority was given to other renewable sources, such as wind, biomass, and solar."
In absolute values, hydroelectric capacity increased over the last two decades, from 61,000 GW in 2001 to just over 100,000 GW this year—its share of the national energy mix decreased in the period because other sources also increased. In this move to expand water sources, several new plants were built in the Amazon region, including in Jirau, Santo Antônio, and Belo Monte, which have come under criticism for their social and environmental impacts.
The increased capacity, however, was not followed by an increase in total reservoir volume, since some of the new hydroelectric plants, such as Belo Monte, used run-of-river technology, which does not require a dam. During droughts, however, river water levels decrease, strongly affecting electricity generation at these plants, which have no reservoirs and rely solely on river flow. "The construction of hydroelectric plants without reservoirs is the fundamental cause of the problems the country is facing in this area," highlights José Goldemberg, a physicist and professor emeritus at USP whose research focuses on sustainable energy and development.