Flying cars, like those that cross the skies in The Jetsons, the popular cartoon aired in the 1960s, or the dystopian movie Blade Runner, released in 1984, were for a long time purely science fiction. Today, several initiatives are trying to make these aircraft a reality. Electric flying vehicles capable of taking passengers from one place to another like air taxis are being worked on by several companies around the world. Known by the acronym eVTOL, which stands for electric vertical takeoff and landing, these vehicles are being designed to reduce congestion and improve air quality in large cities. There are several challenges standing in the way of success, starting with the technical viability of the vehicles themselves.
In July, Japanese carmaker Toyota conducted a first test flight with a prototype of its flying car, the SkyDrive. The company hopes that the vehicle will light the Olympic flame at the Tokyo 2020 Olympic Games opening ceremony. The city of Washington DC in the USA this year hosted the largest global eVTOL event: the Uber Elevate Summit. One of the concepts presented at the event was conceived by engineers from EmbraerX, a subsidiary of Brazilian aircraft manufacturer Embraer. Designed to carry four passengers plus a pilot, the aircraft was designed with a propulsion system composed of ten low-noise rotors (or propellers) and two fixed wings.
Antonio Campello, CEO of EmbraerX, believes small urban aircraft will become an important means of transport in the next decade. The company's prototype is just one part of a global initiative launched by Uber three years ago. After seeing frustrating results with UberCopter, which allowed people to call helicopters via its rideshare app, the company decided to invest in a new type of shared air transport by establishing the Uber Elevate program. It aims to begin commercial operations in 2023.
eVTOLs combine the characteristics of helicopters and airplanes. Like the former, they can hover, and they take off and land vertically, meaning they do not need long runways. They can also move forwards, backwards, and side to side. One thing that differentiates eVTOLs is they have fixed wings as well as several rotors. While most modern helicopters have two rotors—the largest, usually located above the cabin, is responsible for up and down movement while the smaller one on the tail is also used to maneuver—eVTOLs are being designed with multiple rotors that act together.
The main similarity between eVTOLs and airplanes is the use of fixed wings. "They provide more stability during flight and greater autonomy [maximum flight time or maximum distance the vehicle can travel]," explains electrical engineer Guilherme Augusto Silva Pereira, from the Department of Electrical Engineering at the Federal University of Minas Gerais (UFMG). According to Pereira, the airflow that passes under the wings helps to keep the aircraft in the air for longer and conserves energy.
Another unique aspect of eVTOLs is that as well as being electric, they can also be hybrid, using other energy sources such as batteries, photovoltaic cells, and fuel cells. Airplanes and helicopters mainly run on aviation kerosene, a fuel derived from petroleum, although a number of electric planes are under development.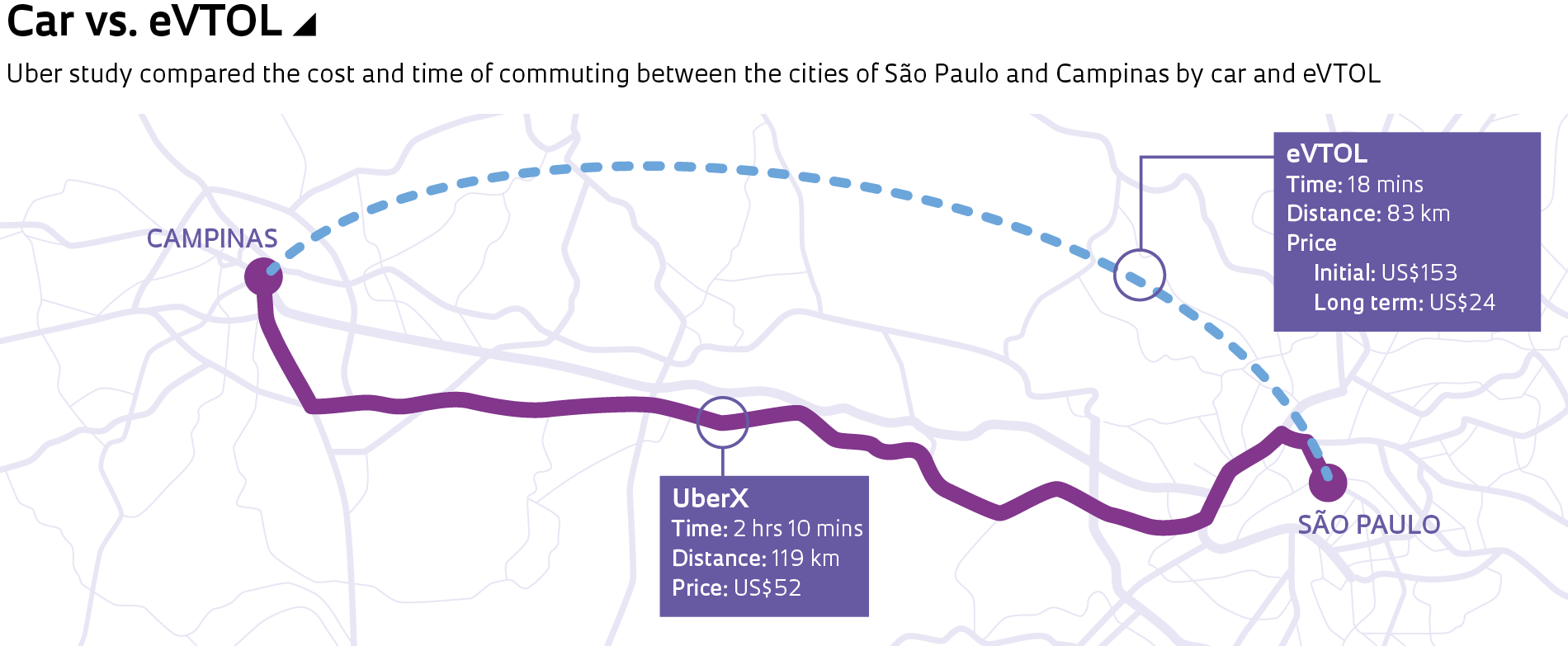 Pilotless
The eVTOLs developed for Uber's program are designed to fly at 240–320 kilometers per hour (km/h) at an altitude ranging from 330 to 600 meters (m), according to a study released by the company—a similar speed and flight level to helicopters. A single battery charge should be enough for a flight range of almost 100 km. A trip from the center of São Paulo to the city of Campinas, about 100 km away, is expected to take around 18 minutes in a flying vehicle—the same journey by car takes more than two hours.
Although designed to be autonomous (to fly without human intervention), the aircraft will initially be flown by pilots. The cities of Dallas and Los Angeles, USA, and Melbourne, Australia, are scheduled to host the first test flights of the Uber Elevate program in mid-2020.
Uber wants to build specific takeoff and landing locations for its flying cars, called skyports, but it also plans to use existing heliport infrastructure in some cities, such as São Paulo, one of those listed to receive the company's eVTOL service. The city has one of the largest helicopter fleets in the world, comprising 420 aircraft and almost 200 active heliports.
Automation control engineer Guilherme Vianna Raffo, from the Electronic Engineering Department at UFMG, explains that from an academic point of view, the development of eVTOLs is at an advanced stage. "Various navigation and control systems for detecting and avoiding obstacles and identifying system failures and aggressive maneuvers are being or have been created for these aircraft," says Raffo, who has been working with eVTOLs since he began his PhD at the University of Sevilla, Spain, in 2007 (completed in 2011). The researcher is currently participating in a project run by the Federal University of Minas Gerais (UFMG), the Federal University of Santa Catarina (UFSC), and the University of Seville, the aim of which is to develop an eVTOL to support emergency rescue and medical care in Spain.
The main study groups in this area, according to Raffo, are based at the General Robotics, Automation, Sensing, and Perception Laboratory at the University of Pennsylvania, USA, the Institute for Dynamic Systems and Control at ETH Zurich, Switzerland, and the Robotics, Vision, and Control Research Group at the University of Seville. In Brazil, UFMG, the Technological Institute of Aeronautics (ITA) in São José dos Campos, the University of São Paulo (USP) São Carlos campus, and UFSC are the standout institutions for research striving to improve these technologies.
The most advanced developments in the area are being worked on by the companies themselves or in collaboration with universities and other institutions, as is the case with Uber. To make these aircraft available in such a short time, the company entered into partnerships with Boeing, helicopter manufacturer Bell, the American space agency (NASA), the University of Texas at Austin, USA, and École Polytechnique in Paris, France. It created an Advanced Technologies Center at École Polytechnique, its first research and development hub outside the USA, in which it plans to invest around €20 million (R$93 million) over the next five years. The French center will conduct research into the development of eVTOL prototypes and the creation of infrastructure needed to support the use of these vehicles in cities.
In Brazil, as well as working on an eVTOL design, Embraer is studying the implementation of a research and development (R&D) ecosystem that would make it possible to meet the potential demand for this new type of urban transport. This involves improving the urban air traffic control system, among other things. "We have to be able to guarantee safe navigation routes for these aircraft," says computer scientist Felipe Leonardo Lôbo Medeiros, from the Institute for Advanced Studies at the Department of Aerospace Science and Technology (IEAV-DCTA) in São José dos Campos.
Atech, Embraer's subsidiary for air traffic solutions is already working on a system capable of handling future demand for use of Brazilian urban airspace by eVTOLs. The aim is to ensure safe coexistence of various air transport services (airplanes, helicopters, and eVTOLs). "The demand for flights is expected to increase dramatically in the coming decades and a system capable of managing this aircraft traffic in urban airspace will be needed," explains Marcos Resende, business and technology director at Atech.
The company has experience in the area, having helped create the civil and military air traffic control and management systems used in the country, in partnership with the Brazilian Air Force's Airspace Control Department (DECEA). "Together with EmbraerX and DECEA, we are using our knowledge and experience to think about how things will work when the skies of our cities are taken over by eVTOLs," comments Resende.
On the other side of the world, China is paying close attention to new flying car technologies. The Chinese civil aviation authority recently published a draft guideline suggesting that regulatory standards for eVTOLs be introduced within the next year. The country plans to have an air management system that includes these aircraft in place by 2035.