In January, India approved the emergency use of Covaxin, a COVID-19 vaccine produced by Bharat Biotech in collaboration with the Indian National Institute of Virology and the Indian Council of Medical Research. The announcement came at a crucial moment: with just over 1.3 billion inhabitants, the country has recorded more than 10 million cases of the disease and 155,000 deaths. Indian authorities have also given the green light for emergency use of Covishield, developed by the University of Oxford, UK, in partnership with the Swedish/British pharmaceutical company AstraZeneca. The country thus joined the list of emerging nations developing their own vaccines against the novel coronavirus, alongside China and Russia. All three are part of the BRICS group, together with Brazil and South Africa, which have not yet managed to produce their own national vaccines.
Bharat is estimated to have invested US$70 million in Covaxin, but India's success also reflects a policy of investing in science, technology, and innovation (STI) over the last two decades. The country tripled its investments in research and development (R&D) in the period, becoming one of the 10 nations that invest the most in this sector. The amount invested in 2008 was just over US$5.5 billion; by 2018, it had risen to almost US$16 billion, of which 36.8% came from the private sector. The result was an increase in the number of researchers per million inhabitants, scientific publications in journals indexed in the Scopus and Web of Science databases, and patent applications filed with the US Patent and Trademark Office (USPTO).
In February of this year, the Indian government went a step further. In the midst of the crisis, it pledged to finance four new virology institutes and nine other laboratories to study infectious pathogens, as well as creating a national institution to coordinate research focused on infectious disease surveillance. This is on top of a 27% increase to the Department of Health Research's budget, which will be US$365 million in 2021, and a commitment of US$7 billion over the next five years to the country's National Research Foundation, its main research funding agency. "The pandemic has taught us the need to invest in and sustain research and development and to strive to become self-reliant," Indian vice president M. Venkaiah Naidu, told the newspaper The Indian Express.
China is another country that has consistently funded science for many decades, especially in the area of biotechnology. They have built maximum security laboratories, updated their research equipment and machinery, and created mechanisms for repatriating scientists working abroad. Since 2013, the government has also made efforts to transform the Chinese Academy of Sciences (CAS) into an internationally renowned institution, in addition to investing in its "Made in China 2025" industrial plan, which aims to make the country a world leader in a number of high-tech industries.
According to the Organization for Economic Cooperation and Development (OECD), China allocated US$280 billion to R&D in 2017, equivalent to 2.12% of its Gross Domestic Product (GDP). In 2019, the country's STI spending, which includes R&D and other related scientific and technical activities, increased by 12.5% over the previous year to US$322 billion—2.23% of its GDP, according to the National Bureau of Statistics of China. Investment in basic research represented 6% of the total; applied research, 11.3%; and development, 82.7%. Not by chance, the country is the second in international patent applications with 53,981 in 2018, behind only the USA, with 55,981.
This effort has paid off during the pandemic. There are 13 vaccines being tested on humans in China, many the result of partnerships between the public and private sectors. Five are close to completing or have already completed phase 3 clinical trials, the last step before applying for approval from the regulatory authority. Two were developed by state company Sinopharm. A third was made by Tianjin-based pharmaceutical company CanSino, in partnership with the Chinese army. The fourth, known as CoronaVac and approved in Brazil at the beginning of the year, was developed by Sinovac Biotech, based in Beijing. The fifth emerged from a collaboration between Anhui Zhifei Longcom Biologic Pharmacy and the CAS's Institute of Microbiology.
Despite its STI funding having stagnated at 1% of GDP for decades, Russia has also produced its own vaccine for the novel coronavirus. In February, scientists from the Gamaleya Institute announced in The Lancet that Sputnik V was 91.6% effective against COVID-19, although public data on the vaccine are still limited. Sputnik V was funded by the Russian Direct Investment Fund and developed at Gamaleya, in Moscow.
Despite its high effectiveness, few would claim that the vaccine represents a revival of Russian science. It is certain, however, that the vaccine is the result of a national plan to revitalize and restructure STI in the country. In 2014, the government created the Russian Science Foundation, which had a budget of US$294 million in 2020. More recently, it announced a national strategy set to run until 2024 that provides more money for STI, extra funding for early-career scientists, and some 900 new laboratories, including 15 world-class research centers.
The situation is different in Brazil, where all vaccine candidates are still undergoing preclinical studies (see article). "The Brazilian government seems to have realized the risks of depending solely on foreign vaccines and in recent months it has started paying more attention to Brazilian immunization projects," points out biologist Luís Carlos de Souza Ferreira, director of the Institute of Biomedical Sciences (ICB) at the University of São Paulo (USP). According to him, however, Brazil should have put more effort into developing its own vaccine at the beginning of the pandemic. "We are unlikely to see a vaccine candidate undergoing human trials in 2021. This will more likely happen from 2022 onwards—assuming the government can provide the funding and the candidates show promise."
Brazil has been dealing with unstable STI funding for years. Since 2013, national R&D spending has been decreasing in absolute values. In 2017, it reached R$41.2 billion (equivalent to US$7.8 billion), its lowest since 2012, according to the Ministry of Science, Technology, and Innovation (MCTI). In 2020, the MCTI itself had its lowest budget in more than a decade—after salaries and other mandatory expenses, there was R$3.7 billion left for investment, 30% less than in 2019. Brazil's annual budget bill, known as the PLOA, is currently under discussion by National Congress, and forecasts R$2.8 billion for the MCTI in 2021, 34% less than in 2020.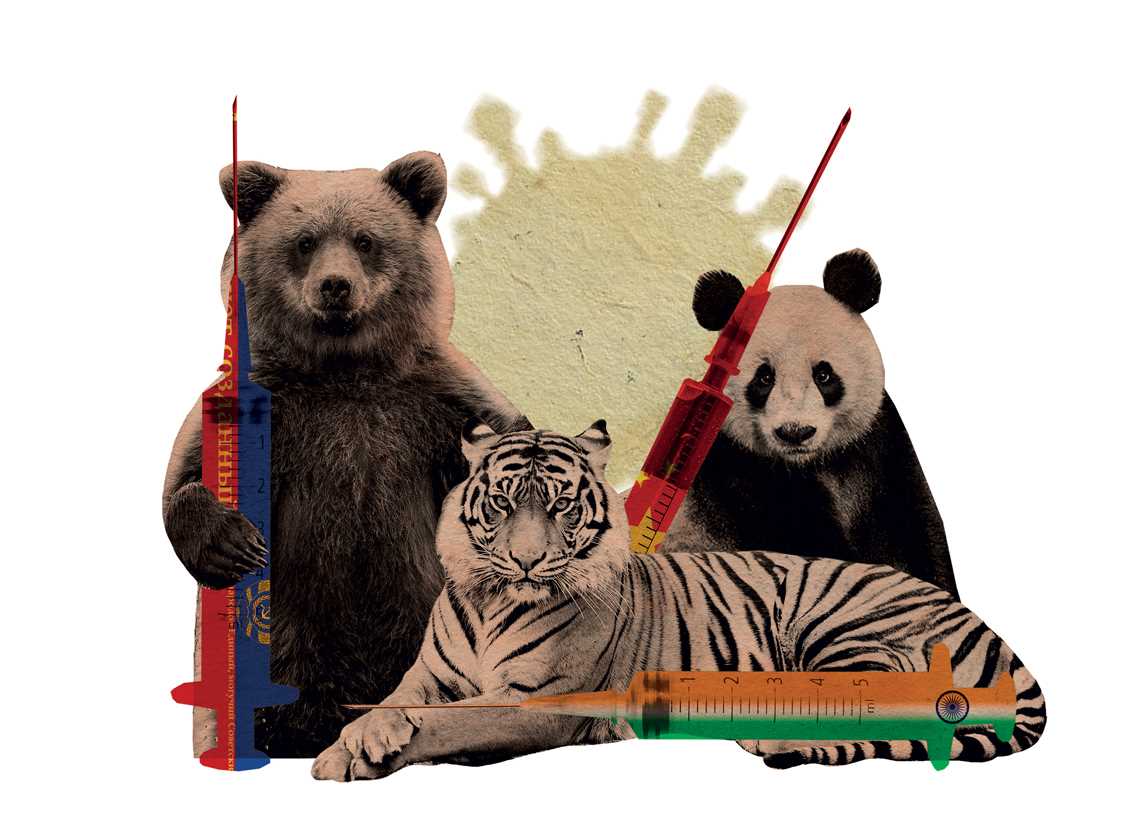 Zé Vicente
Financial difficulties are only one on the obstacles faced by Brazil in this area. Researchers also have to deal with poor coordination between academia and industry and a lack incentives for innovation. Multinational vaccine manufacturers have no interest in establishing operations in the country and the few Brazilian private companies in this sector have no motivation to innovate. "Brazil has not managed to form a competitive industry interested in investing in national vaccine candidates," says pharmacologist João Batista Calixto, a retired professor at the Federal University of Santa Catarina (UFSC).
Even drug development and production in Brazil struggles with the scarcity of pharmochemical companies, which are crucial for the production of active pharmaceutical ingredients (APIs). Physicist Ronaldo Mota, former national secretary for STI, explains that in the 1980s, domestic drug manufacturing was meeting 55% of the demand in Brazil. Today, that figure stands at 5%. The decline coincides with the opening of the Brazilian economy in the 1990s. "Reduced customs tariffs made imported products cheaper in Brazil and many local companies were unable to compete, eventually going bankrupt," he says. This policy, he explains, led Brazil to become increasingly dependent on foreign imports. The pharmaceutical industry was also damaged, but managed to get back on track thanks to the country's generic drugs law. Even so, R&D spending (2.6% of its revenue) is below the international average of 10–15%. "They do not invest more because they are in their comfort zone, making plenty of profit with little domestic competition," says Calixto.
The situation in South Africa is even more delicate. The country does not even have the infrastructure needed for large-scale manufacturing of foreign vaccines, something common among most middle-income countries. The Biovac Institute, a partnership between the South African government and a consortium of healthcare companies, has only just started investing in vaccine factories, while Aspen Pharmaceuticals, a producer of generic drugs and nutritional supplements, is racing to adapt its facilities to produce the Johnson & Johnson vaccine from April 2021.
Like Brazil, South Africa is facing cuts due to the economic slowdown. In June 2020, the government announced a 20% reduction in the 2020–2021 budget for all federal agencies and departments. In the following month, Blade Nzimande, the Minister for Higher Education, Science, and Innovation, was able to reduce the cut to 8% (see Pesquisa FAPESP issue no. 294).
The challenges faced by both countries in obtaining a vaccine are evident in the early stages of development. There are few problems with in vitro testing at universities, the least costly stage of the process. It is when the research moves onto the animal testing phase that obstacles arise. This step has to be carried out by personnel who specialize in animal handling and experiments, in laboratories with strict biosafety and bioethics demands. It also requires the production of pilot batches of the vaccine. The goal is to assess how the compound is metabolized by animals and whether it is safe and effective to give to humans. "Few institutions in Brazil have this type of infrastructure," says vaccine specialist Luciana Cezar de Cerqueira Leite, from the Butantan Institute. "We often have to use foreign labs, which manufacture the doses and test them on animals, but at a high cost."
The scarcity of private labs in Brazil is a reflection of the low demand for preclinical trials on animals. "It is expensive to open and run laboratories like this. Because demand for these services is low in Brazil, it is a high-risk investment," says Cerqueira Leite. The Center for Innovation and Preclinical Trials (CIENP) in Santa Catarina, run by João Calixto, is the only private lab of its kind in the country, but it does not have the biosafety level required for experiments involving with viruses or live vaccines.
The history of CIENP illustrates one of the country's main problems in the development of new drugs and vaccines: the lack of predictability of government funding for strategic projects. The center was created to meet a specific demand in the late 2000s. "The government invested a lot of money in the pharmaceutical industry through BNDES [the Brazilian Development Bank] and FINEP [the Brazilian Funding Authority for Studies and Projects], which generated a high demand for preclinical animal trials," recalls Calixto. As a result, he was invited to create a center to conduct these tests in Brazil, with support from the Ministry of Health and the MCTI. "The biggest challenge was finding people qualified to work in facilities governed by good laboratory practices," he says. "We had to hire international consultants and send our employees for training abroad."
CIENP was opened in 2014. However, economic crises and new governments have led to policy changes. Funding has become scarce and the demand for these trials has fallen dramatically. "Today, the center is almost idle," he says. "There is no long-term government policy to encourage establishment of the entire drug and vaccine development chain, rather than just part of it."
The country also has limited experience in phase 1 and 2 clinical trials involving small groups of humans. These tests require significant investment and are usually coordinated by large pharmaceutical companies based in the countries where the technology was developed. "This is a strategic issue," explains Ferreira. "These trials are used to determine the number of doses needed and safety parameters related to the effectiveness of the vaccine. No company will share such data without first testing and patenting them, something else that Brazilians rarely do."
For Alexander Precioso, director of the Center for Pharmacovigilance, Clinical Security, and Risk Management at the Butantan Institute, it is still important that Brazilians engage in studies of domestically developed vaccines, to finalize them and adapt them, if necessary, to new SARS-CoV-2 variants. "It is essential that scientists leading studies of Brazilian vaccine candidates review their strategies as new data on new variants are published," he stresses.
Republish