Custom medical and dental prostheses, complex automotive and aerospace parts, molds, and custom or low-volume consumer goods such as spare parts for off-line equipment—the applications of additive manufacturing technology are becoming more and more widespread. Also known as three-dimensional (3D) printing, the process was developed in the 1980s with the goal of quickly producing three-dimensional prototypes for products. Data from the US consulting firm Wohlers Associates show that between 2013 and 2017 financial revenue generated through additive manufacturing had an annual growth rate of 25%, totaling US$7.3 billion in 2017. The consulting firm estimates that in the coming years the pace of expansion of this production system, which is aimed toward several market segments, will accelerate even more and should yield US$20 billion in annual revenues by 2021.
Eduardo Zancul, a professor of production engineering at the Polytechnic School of the University of São Paulo (Poli-USP), explains that additive manufacturing features the use of equipment called 3D printers. They are capable of making objects by adding material, layer by layer, from a three-dimensional digital model, usually obtained through the use of a computer-aided design (CAD) system.
The concept is the opposite of traditional production methods, such as machining, in which parts are manufactured by removing material, metallic or otherwise, by using machining tools such as lathes and milling machines. "There is more economic use of raw materials, and waste is reduced, since the raw material is deposited according to requirements defined in the programmed model," the researcher observes, noting that there are several 3D-printing technologies in use today.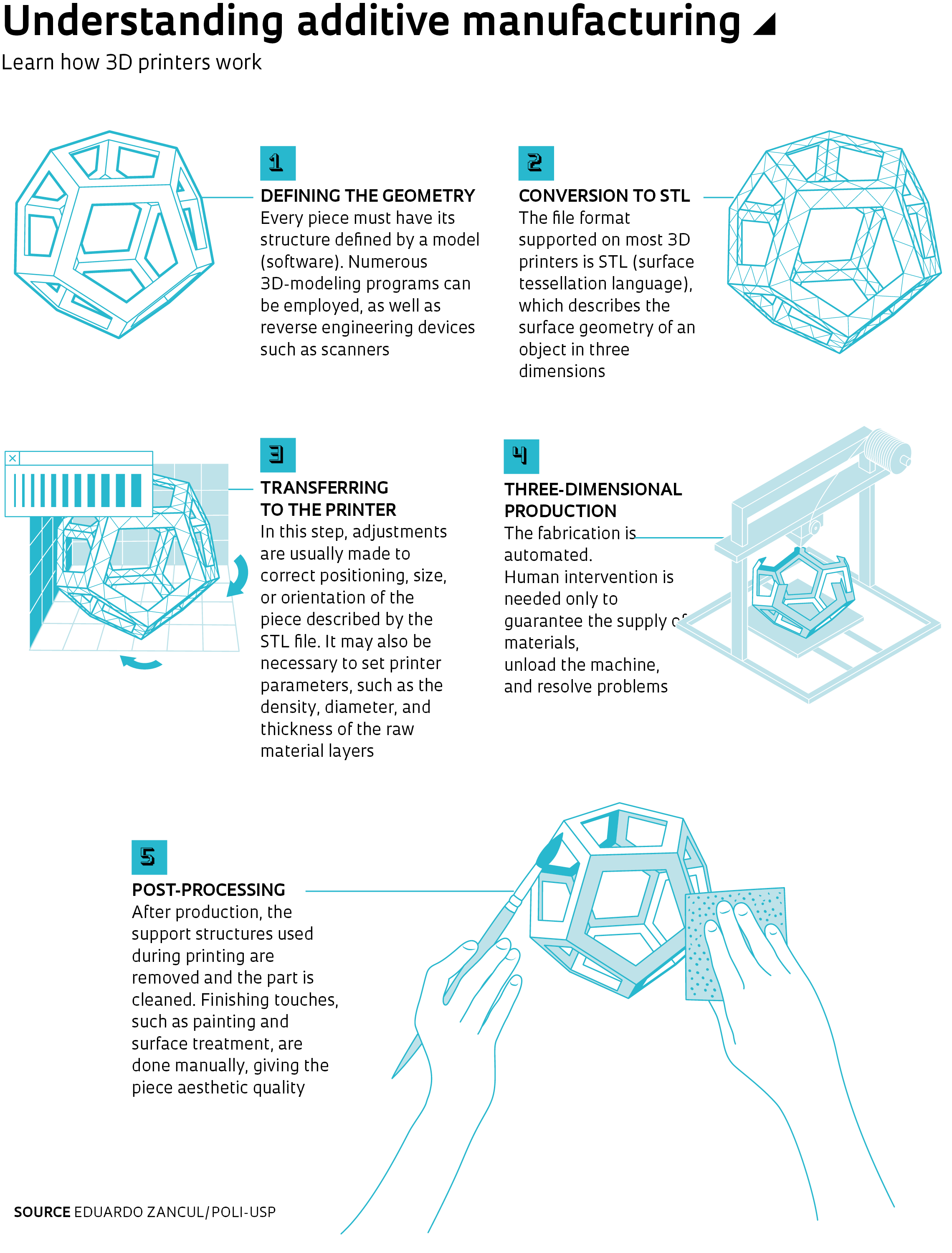 Regardless of the technique, production is automated and human supervision is required only for the provision of raw material. Among the principal materials in use are high-temperature molded plastic (thermoplastic), resin, metal powder, and ceramic paste. Printers vary in dimension, starting as small as a microwave oven, and their prices vary considerably. Inside the catalog of US printer maker Stratasys, one of the world leaders, the cheapest is US$5,000 (around R$18,500), and the most expensive runs US$500,000 (approx. R$1.85 million), before taxes.
For Jorge Vicente Lopes da Silva, director of the Renato Archer Information Technology Center (CTI) in Campinas São Paulo, additive manufacturing is not—nor will it become—a substitute for traditional production in most industries, but is rather a solution for market niches. The technology's advance, he believes, is irreversible. "In each new application where 3D printing is competitive, user migration is definitive," says Silva. "Additive manufacturing now accounts for about 0.05% of global industrial output. It won't take long to reach 5%, which will be a revolution in world manufacturing," he predicts.
Advantages of 3D printing
One of the main advantages of manufacturing by adding material is that it gives more freedom to designers, who don't need to develop parts according to the movement limitations of machining tools used in conventional machining processes. In addition, the technology enables the production of parts with complex, hollow (and therefore lighter) geometry, and even allows the consolidation of multiple components into a single part.