Researchers at the University of Brasília (UnB) and the Pontifical Catholic University of Rio Grande do Sul (PUC-RS) recently conducted a survey to identify the primary agencies and institutions funding science, technology, and innovation (ST&I) efforts in Brazil, using data from InCites®, a platform for research analytics based on the Web of Science (WoS). They analyzed 963,467 scientific papers published by Brazilian authors from 1999 to 2019, including 660,308 papers containing acknowledgments of sources of funding. The survey found that half of these papers were funded by 10 Brazilian institutions, primarily the Brazilian National Council for Scientific and Technological Development (CNPq), which funded 192,871 studies; the Brazilian Federal Agency for Support and Evaluation of Graduate Education (CAPES), which funded 109,352; and FAPESP, with 88,814 funded studies. These three institutions combined funded 59.1% of the research published in the period. "Brazil's ST&I spending remains highly concentrated in a handful of agencies," says Concepta Margaret McManus, a researcher at UnB and a co-author of the study, published in Scientometrics.
FAPESP is one of the leading agencies funding research by scientists in São Paulo. Indirectly, the Foundation has also supported scientific output in other states (see table). "Researchers funded by FAPESP often work with scientists from other states in collaborations supported by the Foundation," says McManus. Another agency that performed strongly in the survey was the Rio de Janeiro State Research Foundation (FAPERJ). Papers published by FAPERJ-funded researchers were the top performers for Category Normalized Citation Impact (CNCI), a metric that compares the impact of articles irrespective of age and subject matter. Their strong performance is attributed to frequent research collaborations with industry, especially oil giant Petrobras.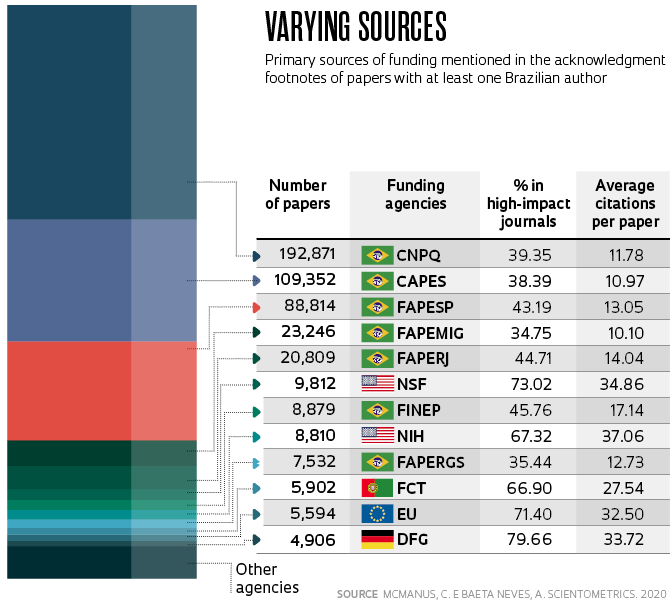 As part of the survey, the researchers also used data about sources of funding to estimate the extent of research internationalization during the period, in an approach that has previously been little explored in scientometric studies. They identified papers that were partially or entirely funded by international agencies. They found that institutions in more than 68 countries and the European Union provided funding for more than 145 papers with at least one Brazilian researcher among the authors, largely in the fields of biochemistry and molecular biology, material science, and pharmacology. The US and Germany were the largest sources of international funding, with agencies from these countries supporting respectively 6.8% and 2.3% of articles co-authored by at least one Brazilian researcher in the period. Funds from the US came largely from the National Science Foundation (NSF), the leading funder of basic science in the country, and from National Institutes of Health (NIH), the country's largest funder of life science research. Funding from Germany was largely provided by the Deutsche Forschungsgemeinschaft (DFG), the country's foremost research funding agency.
The survey also measured the level of impact of articles with Brazilian authors depending on the funding agency, based on whether they were published in the top 25% (Q1) most influential journals. They found that 37.8% of the 455,766 Brazilian-funded papers were published in Q1 journals from 1999 to 2019. Although they funded roughly half of Brazil's research output, less than 40% of the papers funded by CAPES and CNPq were published in high-impact journals. This figure is significantly higher for internationally funded articles (see the table).