Certain types of epilepsy do not respond to existing medications, subjecting children and adults alike to a succession of convulsive episodes that impede development and enjoying normal lives. For these cases, the use of cannabidiol (CBD), a substance produced by the Cannabis sativa plant, is becoming increasingly popular around the world. A growing number of potentially therapeutic uses for CBD and other compounds originating from marijuana, called cannabinoids, are not yet as well founded, but are receiving increased attention from researchers. Such is the case for various types of chronic pain, anxiety, post-traumatic stress, autism, Alzheimer's, schizophrenia, and other illnesses for which pharmacies offer only limited help.
Results from international studies published in scientific articles corroborate the efficacy of cannabidiol as an adjuvant in epilepsy treatments, according to a systematic review published in 2018 in the Journal of Neurology, Neurosurgery & Psychiatry, by a research group led by Australian epidemiologist Louisa Degenhardt at the National Drug and Alcohol Research Centre in Sydney. In another review published in December 2019 in Lancet Psychiatry, she warns of a lack of convincing data to justify the widespread use of cannabinoids for depression, anxiety, psychosis, and other psychiatric disorders. The meta-analysis that her group conducted, however, included studies investigating the use of both the entire plant and of its isolated compounds, the majority of which studied THC as the active ingredient. Their conclusions emphasize the need for further studies.
Some of the studies cited in the reviews were done at USP, which figures prominently in works done using cannabidiol; Brazilian researchers do not have access to THC. According to the Web of Science platform, the São Paulo institution accounts for about 7% of global scientific production on the subject, followed by research centers in Israel, the United Kingdom, and the United States. Brazil's ranking is primarily due to research by groups led by psychiatrists Antonio Zuardi, José Alexandre Crippa, and Jaime Hallak, and pharmacologist Francisco Silveira Guimarães, all at the Ribeirão Preto campus of the University of São Paulo (USP-RP) (see Pesquisa FAPESP issue no. 125).
In addition to being a focus for research, its potential for contributing to a variety of treatments has made cannabis an increasingly frequent media topic in recent years. In parts of the United States and other countries such as Uruguay and Canada, measures were adopted that permit marijuana to be used medically—sometimes by smoking the herb itself—which has been a controversial decision.
In Brazil, this option is nowhere on the horizon. What has been proposed is the use of cannabidiol, the cannabinoid substance singled out as having therapeutic effects. "Actions like the Global Marijuana March have little effect," says Antonio Zuardi. "The industry has realized that there's a market, and that pressure is much stronger." In December the Brazilian Health Regulatory Agency (ANVISA) approved a resolution that went into effect in March, allowing drugs with a predominance of cannabidiol as an active ingredient to be manufactured in Brazil. There are two categories, depending on the content of tetrahydrocannabidiol (THC) in the product's composition (up to 0.2%, and more than 0.2%), and its sale in pharmacies (see timeline infographic). Products with a higher THC concentration may only be used with palliative care patients or those whose conditions are refractory to other medications or lower doses. Because THC is the substance responsible for the consciousness-altering, psychotropic effects of marijuana it is considered more dangerous. Authorizations will continue to be granted—as is the current practice—for compassionate use, i.e., when there are no effective medications available. The official denomination "cannabis-based products" means that these products would not yet be considered medicines, but the change would allow the pharmaceutical industry to make new products available in pharmacies on a provisional basis.
There were more than 6,000 applications for authorization to import cannabis-based drugs during the first quarter of 2019 alone. This market is expected to grow rapidly if domestic production is approved, although these compounds are not the cure-all solution commercial propaganda would like to suggest. Only one cannabis-based medicine is currently sold in Brazil, which interestingly enough has THC content equal to its CBD content. Mevatyl, authorized by ANVISA in 2017 for the control of spasms caused by multiple sclerosis, is produced by GW Pharmaceuticals, a leader in the international market based in England. Although its price has decreased, the cost of treatment is still high, around R$1,500 per 30 milliliters, an amount that lasts about a month depending on the case. The same drug is authorized in 28 countries, which do not include the United States, under the name Sativex.
Zuardi estimates that the first Brazilian pharmaceuticals to reach the market will be anticonvulsants for use in conjunction with other drugs in epileptic syndromes resistant to medication. "Optimistically, maybe even this year," he predicts.
Into the clinic
The Ribeirão Preto group is at the forefront of research that may lead to the development of a new medicine that uses cannabidiol as its active ingredient, and has just concluded a clinical trial involving 15 children and adolescents between 2 and 18 years old, with a range of epileptic syndromes. The data are still under analysis, but Zuardi notes: "The results were excellent." According to the researcher, in 60% of the patients the crises were cut by at least half, and 40% of that group were completely free of seizures. The reduction in crises was lower in the other 40% of patients, but one of the children saw no improvement.
It's not enough, the psychiatrist admits. It was an open study, in which everyone knew the children were receiving the treatment. "Cannabidiol is famous, and just knowing they're receiving this medication makes the families do the whole treatment more carefully," he says. Reliable results are obtained only through double-blind trials, in which neither the patients' families nor the researchers know which patients are medicated and which are receiving an innocuous substance, the placebo. "This study is ongoing, we've collected half of the data and we should be finished by mid-year," he predicts.
Faced with the difficulty of obtaining the needed pharmacological agent in sufficient quantities for their tests, the Ribeirão Preto group signed an agreement with Prati-Donaduzzi pharmaceuticals, which is interested in developing drugs for this market. The test that was just completed was initially proposed in 2014, the same year that the GW lab registered a study for the same purpose on the clinicaltrials.gov website, which is the official international repository for such trials. The company made progress in testing and launched its antiepileptic drug Epidiolex in 2018, becoming the first medicine whose active ingredient is almost exclusively cannabidiol to be approved for sale in the United States. The Brazilian trial only began in 2018, when it received authorization from ANVISA. If it works, the drug produced will almost exclusively use CBD as its active ingredient, but dissolved in different excipients than its British counterpart.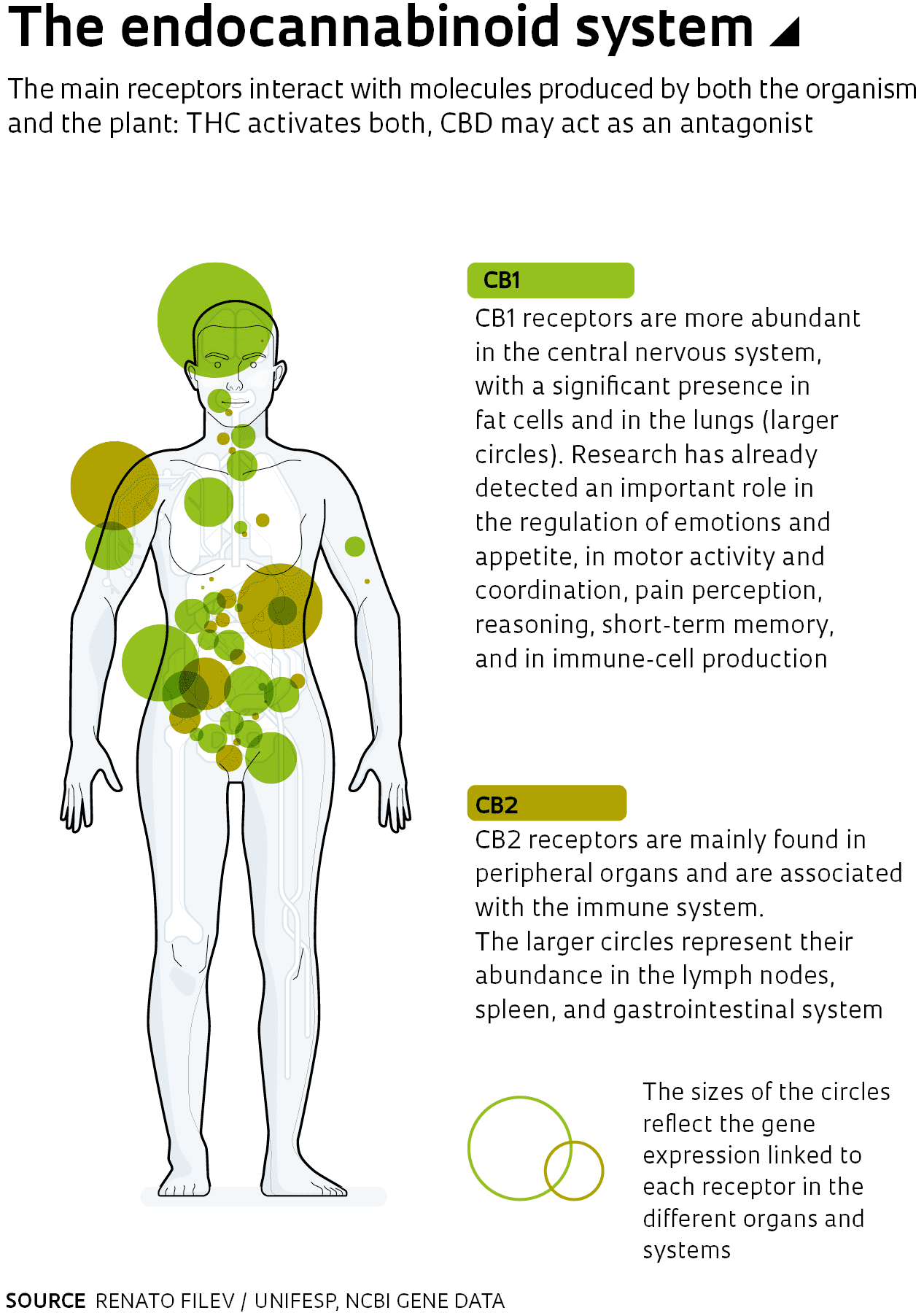 Two-way street
Brazilian studies in the field have a long history. In 1990, Guimarães, who had finished his doctorate a few years earlier under Zuardi's guidance, published an article in the journal Psychopharmacology describing the results of a CBD study using the elevated plus maze—an anxiety-modeling test—with lab mice. The experiment showed that cannabidiol was an effective anxiolytic on test animals, but only in medium doses. When tested at higher doses the effect was lost, which would explain previous results from other groups that showed CBD was not suitable for treating anxiety.
As a consequence of his study, in 1991 Guimarães received a letter from Bulgarian-Israeli biochemist Raphael Mechoulam from Hebrew University of Jerusalem in Israel, who had been the first scientist to elucidate the chemical structures of CBD and THC, and was considered an authority on the subject. He proposed that Guimarães test the effects of changes to the molecular structure of CBD. The results, published in 1994 in the journal General Pharmacology, showed that certain modified forms of CBD (signified with the prefix HU, from "Hebrew University") were as effective as natural cannabidiol in mice exploring the plus maze. Artificially altered molecules do not usually work well. These results, and others that followed, strengthened the collaborative relationship between Mechoulam's group and the USP-RP group. One more recent result is the development and testing of modified CBD compounds with the addition of fluorine at different positions of the molecule. The superior efficacy of one of them—when compared to natural CBD—earned the Israeli and Brazilian groups a patent that was recently acquired by the American pharmaceuticals company Phytecs, which plans to develop dermatological medicines.
The Zuardi and Guimarães groups work in close collaboration within the scope of the National Science and Technology Institute for Translational Medicine (INCT-TM), coordinated by Jaime Hallak and José Alexandre Crippa. Translational medicine aims to use experiments carried out on animals to guide clinical trials, then work back toward animal models to thoroughly investigate the mechanisms behind observations made in patients, creating a two-way avenue of research. "The transposition between model and human being isn't direct, but it provides important information for clinical studies, such as the pathways and safety of the drug," says Zuardi. "If the drug shows a consistent effect without harm to the animals, we consider testing it on humans."
Because of the way the endocannabinoid system functions (see infographic), he is emphatic regarding the potential for important medicines to come out of these studies. The psychiatrist explains that the brain has more receptors for cannabinoids than for the neurotransmitters that are recognized as central to its functioning. Every region of the nervous system is brimming with these receptors, which play a modulatory role. "If this is such an important system, drugs that interfere with it could also cause disease as much as they mitigate it," says Zuardi. "Cannabidiol is like a Disneyland for pharmacologists," jokes Guimarães. "More than 60 targets have already been described in studies done in vitro, but it's not yet clear how the molecule acts in these receptors." More than 100 cannabinoids are already known to exist in the Cannabis sativa plant, although with the overwhelming majority it's still unclear as to their effects and actions on endocannabinoid receptors in animals.